Enagic® / Kangen® vs LIFE®
LIFE Ionizers vs Kangen: There is a Difference
What's the difference between LIFE Ionizers and Enagic Kangen? The benefits are the same, but that's where the similarities stop. For one thing, the Kangen machine is about twice as expensive as our seven LIFE M-7, our comparable machine. The Kangen machine doesn't filter out as many toxins from your water that a LIFE ionizer does. The Kangen machine can't reach the same high acid fighting pH, and age-fighting antioxidant power levels a LIFE Ionizer can, nor does Enagic Kangen guarantee that you'll get the most antioxidant benefit possible in every glass of perfectly pH balanced. alkaline water you drink. How come LIFE can guarantee these things and Enagic can't? Take a look below and compare LIFE to Enagic Kangen, see for yourself why LIFE Ionizers gives you a lot more for your money:
Free Ionizer Comparison Guide
Want to know the real differences of Kangen™ and Life Ionizers?
| | | |
| --- | --- | --- |
| | Life Ionizers® | Enagic® / Kangen® |
| pH & ORP | Our 7 plate M7 has a pH range of 2.5 to 11 pH, with an antioxidant level of up to -700. Our top-of-the-line models go even higher | The Kangen machine will give you a pH range of 4.5 to 10.3, without chemicals. It may reach an antioxidant level of -600, but not at drinkable pH levels |
| Price | LIFE Ionizers has a range of quality ionizers, starting at $1497, you're sure to find a machine that fits your budget and lifestyle | The Kangen machine costs $3980, twice as expensive as competing ionizers. |
| Filtration | Every LIFE Ionizer comes with a free customized filtration system configured to address the toxins in your water to ensure the purity of your alkaline water | The Kangen machine has only one filter, and it doesn't remove heavy metals or salts. You may be exposed to these toxins if they are in your water. |
| Countertop or Undercounter | You can convert your LIFE Ionizer to work countertop or under the counter – it's your choice! | If you buy a countertop Kangen machine, you're stuck with it that way. Same goes for the undercounter unit |
| Warranty | Our top-of the-line LIFE Ionizers come with an unlimited LIFEtime warranty | Limited 5 year warranty |
| Return Policy | 75 days with 15% restocking fee | 3 Days with 15% restocking fee. After that up to 30 days with 20% restocking fee |
| Needs Chemical Additives | No. LIFE Ionizers are powerful enough to work without added chemicals | Yes. You may need to add calcium glycerophosphate, a chemical linked to kidney stones |
| How often do you need to clean it? | Only at filter changes, about every nine months | Every 6 weeks |
As you can see from the chart above, LIFE Ionizers gives you more, for less money, than Kangen does. Why is there such a big difference? Technology, LIFE Ionizers constantly upgrades our ionizers with the latest technologies including computer controlled SMPS power supplies, our ultra-tough, guaranteed-for-life drop forged GRID plates, and our industry leading customized filtration systems.
What about Enagic Kangen? They never upgrade their machine, it's still using mid 1990's technology. Think about it: Buying a Kangen machine is like buying a 1990's computer running Windows 95 – and paying twice as much for it as you would a brand new computer!
So why is the Kangen machine so expensive if it's built with such old technology? Because the Kangen machine is sold through a multi-level marketing pyramid. What you're paying for when you buy a Kangen machine isn't quality or technology; you're paying multi-level marketer's commissions. Multi-level marketing makes everything more expensive.
Get more with LIFE Ionizers. You'll get more of the acid-fighting alkalinity and age-fighting antioxidant potential you want, without the rip-off prices of multi-level marketing, we guarantee it
Watch the Animated Video – Kangen vs Life ionizers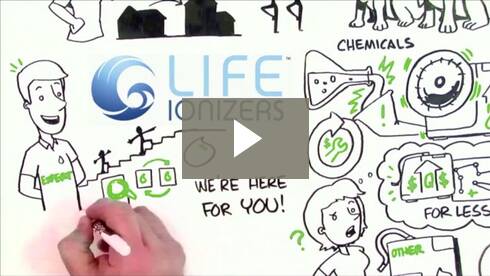 Please take some time to review some of the latest innovations in technology that LIFE Ionizers have to offer:
Ultraviolet (UV) Technology (patent pending) for addressing parasitic cysts in the water supply.
GRID technology™which boosts the pH and ORP to the highest levels in the industry.
Power System – Kangen® uses the old-fashioned transformer, LIFE uses the advanced SMPS Power System – same system as High Definition Televisions better power distribution for higher pH and ORP (antioxidants); runs cooler and lasts twice as long.
Laser Energy Technology – balances the energy in water
Power 5™ – Multiple amperage settings to optimize ionizer performance
Dual filters with Vitamin C Ceramic Technology™ for chlorine and chloramines reduction
Free water report includes Free Pre-filter and housing
Under Counter systemswith brushed stainless steel faucets w/ twin spouts, digital read-out & touch control. Converts to counter top.
The first and only alkaline water ionizer listed in the 2009 Physicians' Desk Reference® for Nonprescription Drugs, Dietary Supplements and Herbs.
 Enagic® and Kangen™ are registered trademarks of Enagic, Co., Ltd and is in no way affiliated with LIFE Ionizers™™. Other trademarks are the property of their respective owners.Copyright © 2008. EarthTrade Water.